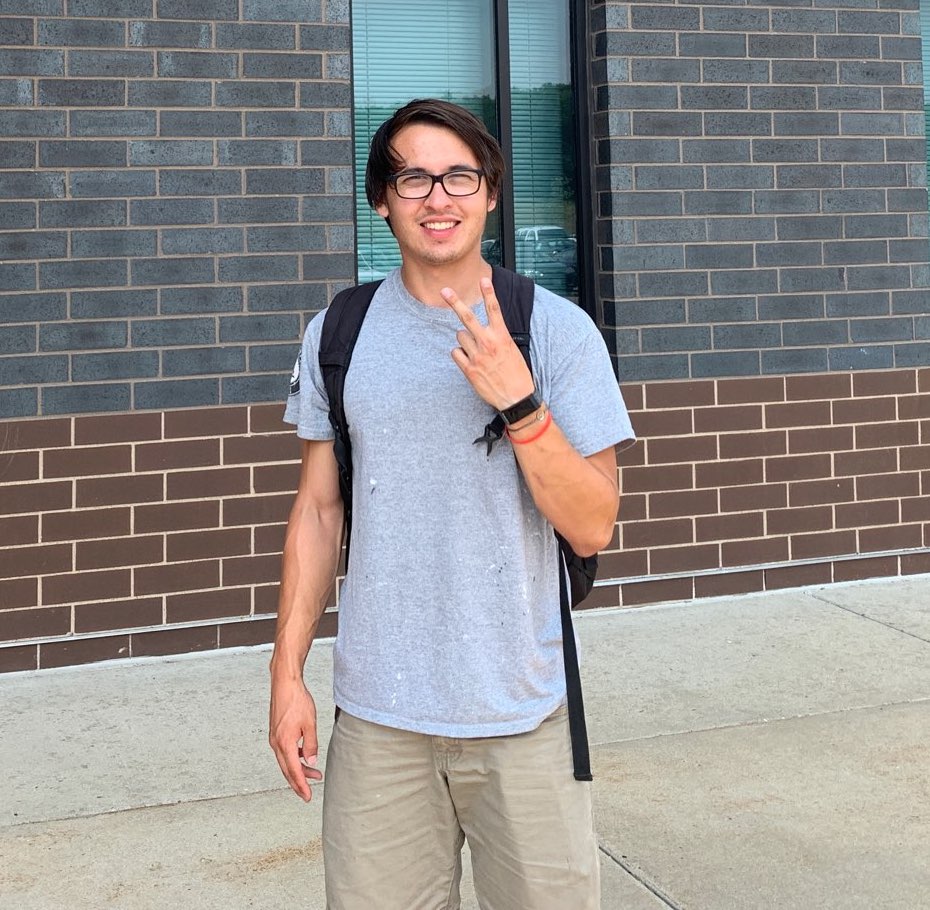 AmeriCorps member Liam Poitra has collected the blueprint of almost every house he's helped build. After years of building houses, he's up to 18 houses total. "It's something I can point to," he said about the blueprints. "I'm hoping I can frame them someday."
Liam, who's attending college at University of Minnesota Morris, started building houses with Habitat for Humanity first as an AmeriCorps member with National Civilian Community Corps (NCCC), then as a volunteer, and most recently last summer as an Emergency Response Initiative member. 
With his years of experience, he's been able to start training volunteers on the ins and outs of building a house. "It's been really rewarding to see I was able to pass what I know to another person," he said. 
He recalled one time when he helped a volunteer learn how to install new flooring. "Flooring seems complicated," he said. "But once you get into the groove of it, you can finish it in a day and a half. It was really cool to train someone to learn all those steps. It was fun."
Liam also served with Conservation Corps and NCCC. With NCCC, he traveled the country with a group of other AmeriCorps members serving on projects in Louisiana, Mississippi, North Carolina, and West Virginia. 
Many of their projects were related to hurricane disaster relief, and in preparation for disaster response, Liam was designated as "the chainsaw guy." He didn't have to use the chainsaw much, but had fun taking down a couple dead trees during the training. 
After building houses with Habitat for Humanity as an Emergency Response Initiative member last summer, he's in a completely different environment this summer as a tutor with Alexandria Public Schools Community Education.
All in all, Liam is grateful for his four terms of service, and plans to serve with the Peace Corps after he graduates from college. "When you're serving, you see your impact right then and there. I really feel proud of what I'm doing, which can be a rare thing sometimes."
"I feel I know the program in and out," Liam said about AmeriCorps. "It's just a big part of me at this point."
Twin Cities Habitat for Humanity and many other AmeriCorps programs are currently recruiting! To apply to serve with Habitat for Humanity, view their open positions. For all other programs, start your application by filling out our contact form.