Where will service lead you?
AmeriCorps is an opportunity for individuals of all ages and backgrounds to make a difference by strengthening communities. ServeMinnesota helps connect 2,000 AmeriCorps members to local programs each year! These paid opportunities can help enhance skills, launch new careers, and provide amazing benefits in addition to the positive impact you can help create.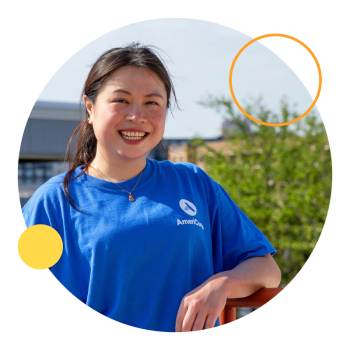 Find the perfect program for you.
Looking for summer plans?
Help communities in Minnesota by serving with AmeriCorps! We're offering summer opportunities that'll support affordable housing, education, the environment, and more. Jump in and make the most of the season! Learn more about why summer is a great time to join AmeriCorps. You can also watch the recording of our Summer Info Session to learn more!
Why you'll love AmeriCorps.
Give back to a community.
Gain professional experience.
Get training that's proven to make an impact.

Develop life-long relationships and connections.

Come as you are! No particular educational or professional background needed!

Join AmeriCorps, get perks.
Federal Student Loan Forbearance & Interest Repayment
Postpone your student loan payments or reduce payment amount. Plus, any interest accrued is paid for you.
Education Award
Receive up to $6,895 to pay tuition or repay student loans. The education award makes it possible to pursue your passion.

Receive a Paycheck
Get paid for your service every two weeks. Average checks are around $800-1,100 for full-time service.
Discount Transit Fares
This perk is available to metro members through Metro Transit Assistance Program.
Child Care Assistance
If you serve 35 hours a week or more, you may qualify for child care assistance based on household income.
What AmeriCorps alumni said:
Serving benefited my career path.
Serving showed me a career path I wouldn't have otherwise considered.​
My employment resulted from a connection made while serving.​