Sarah Paulus takes her daily To Do list in stride: Create a resource guide, build and populate a database, visit a state prison…
Indeed, this might not be the typical kind of service that people expect from AmeriCorps, but as the first AmeriCorps member placed in the Minnesota Department of Corrections through Minnesota Recovery Corps, Paulus is helping her team fight one of the persistent public health crises today: Opioid addiction. As a project coordinator in Recovery Corps, she is part of a larger movement to help organizations build capacity in order to quickly and thoughtfully address the opioid epidemic.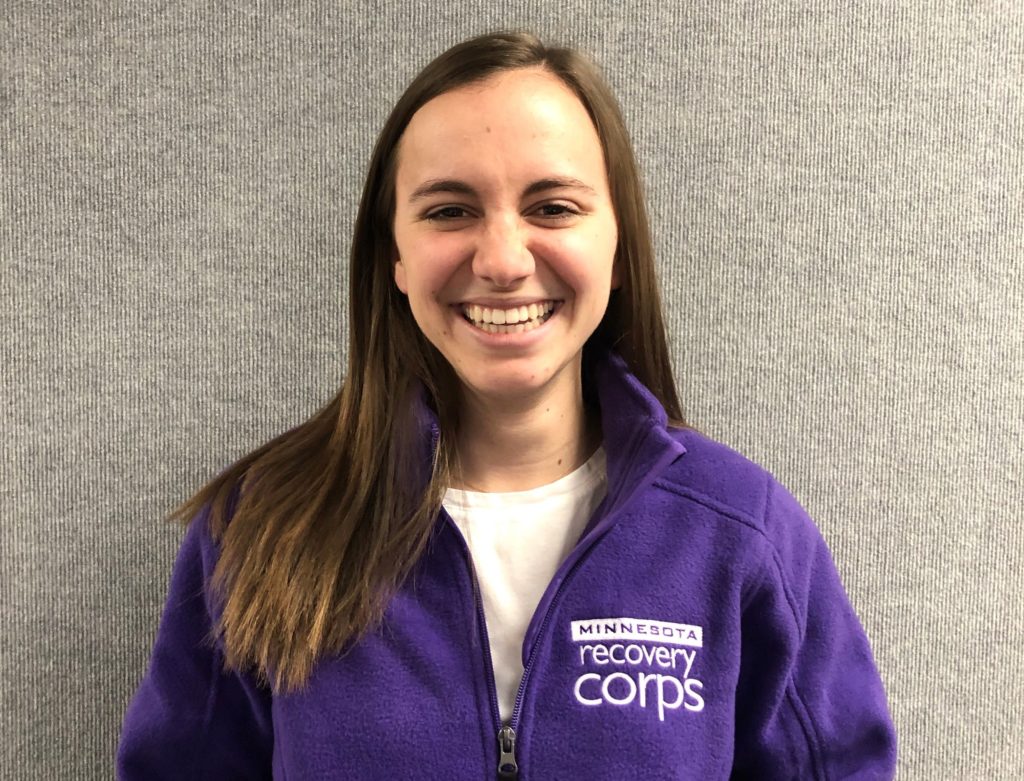 Paulus, a 22-year-old who graduated from Loyola University Chicago in 2018 with a degree in psychology and a minor in advocacy and social change, started her year-long service in September 2018. She said she appreciates how her service allows her to "advocate for people," even from behind the scenes.
"I'm a point person for a lot of the opioid-related things here at the Department of Corrections," Paulus explained. "The DoC had started a lot of the work before I arrived, but now I can step in and take over and oversee that, and they can have someone who is solely focused on those items."
Her responsibilities include creating resource guides about opioid use disorder treatments and tracking clients who leave the corrections system in order to maintain data on their medications and treatment plans. She also monitors the latest news and research on opioid use disorder and shares with staffers at the Department of Corrections. MORe Corps members like Paulus are placed with partner organizations to strengthen prevention programs, access to care, interventions and post-treatment support.
Seeking Meaningful, Research-Oriented Experience
"I just graduated and knew I wanted to get a job that was meaningful, hands-on and where I would learn a lot. I had a research position in college and was hoping to find a position where there would be research as an aspect of the service," she said. "I was hoping it would guide me toward a more specific career down the road, which this definitely has."
One of Paulus' most impactful projects has been building and updating a database that tracks inmates with a history of opioid use disorder. When inmates enter a prison facility, they take an assessment for drug and alcohol use. Opioid use had only been sporadically tracked previously, so Paulus added missing data for every opioid user entering the prison system since 2008. She also condensed and organized the form to track for different data points, including how many were still in treatment during incarceration and how many continued treatment after being released.
"I've been able to track down hundreds of individuals currently serving time in a Minnesota prison who have struggled with opioid use that were not already in this system, which means there are hundreds more people who now have a chance to receive various forms of treatment, counseling and support services both during their time in prison and after they have completed their sentence and are back in the community," Paulus said. She notes that the Department previously did not have a person dedicated specifically to opioid work, and she was excited to be able to help her colleagues.
"I love it here, and I would recommend it so much for someone who enjoys working at a more macro level," Paulus said.
Service in Recovery at Prisons
Although Paulus is based in a central office in Saint Paul, she also gets to visit prison facilities as part of her service. She observes treatments there, and she helps conduct education efforts around opioids, including helping with "transition fairs." These fairs allow soon-to-be-released offenders to learn more about resources they can access in the community when they are released, like opioid use recovery resources.
"Everyone who works in the facilities is so talented, and I really like just going and watching them all do their jobs," she said. Although she and other Recovery Corps members attend Recovery Coach Academy, she said she has also learned a great deal from her day-to-day service.
"I have learned so much about opioids — from the history of the epidemic to how best to treat opioid use disorder, and all of that. How the medications work," she said. "And all of this is really interesting, and it was a huge learning curve for me."
Creating a Future for Herself and Helping Others
When Paulus finishes her service in August 2019, the Eden Prairie native said that she hopes to use her AmeriCorps education award to pay for graduate school. She would like to stay in Minnesota begin a career that builds upon her AmeriCorps service and interest in advocating for social change.
"I would definitely work again for the justice population, and I know so much about opioids now," she said. "I see myself doing something with that knowledge in the future."
Paulus said that she is grateful that AmeriCorps has provided her with a unique high-level professional experience that is atypical for a new college graduate.
And there's more to her service than just career building, she said.
"I've learned a lot here, and I have a bigger skillset than when I started, but AmeriCorps in general is a lot of fun," she said. "I have made a lot of friends through AmeriCorps, and I've been able to get involved in the community a lot more."
— Shayla Thiel Stern
Learn more about Recovery Corps.
Feature photo from Startup Stock Photos from Pexels