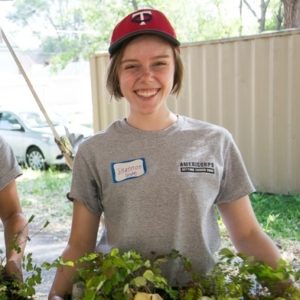 When Shannon Twiss graduated from the University of St. Thomas with a bachelor's degree in Justice & Peace Studies in 2017, she was looking for a meaningful way to spend her first summer as a college graduate. She found it as an AmeriCorps member at Twin Cities Habitat for Humanity.
At the end of her summer term, she had a realization, though.
"Habitat just clicked for me, and I clicked with my supervisor, and once I got going, I realized I wanted to learn more and a summer felt too short," she said. "I just wanted to learn more about the organization and get to know people better and decided to stay."
Plus, it allowed her more time to prepare for her future, which she decided was law school.
Service in Habitat for Humanity
When she first considered AmeriCorps service while still in college, Shannon said she was most interested in serving at a program focused on either education or health. However, she realized that Habitat for Humanity's mission resonated because housing issues touch so many other facets of people's lives.
"If someone doesn't have stable and affordable housing, it's really hard for anyone to be healthy or have a successful education experience," she said. "It really does touch everything."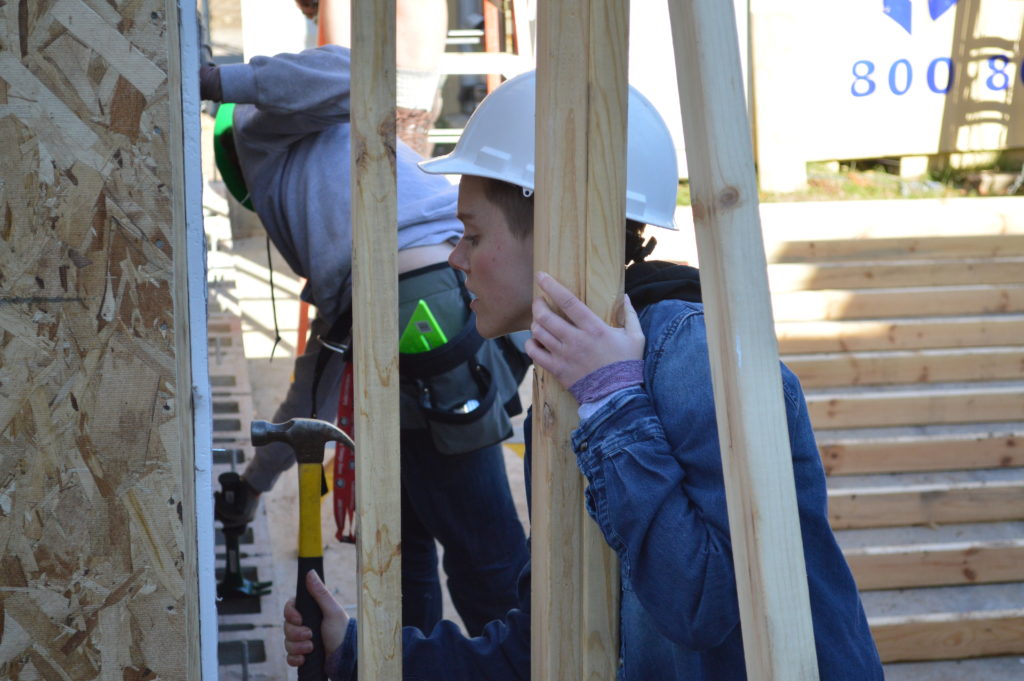 Shannon served in the Neighborhood Revitalization Program her first term at Habitat for Humanity, and her first project was to help plan a neighborhood event in Frogtown of St. Paul, which she said was an important learning experience for her. In addition to finding out how to secure city permits and order necessary supplies, she also learned about how to best connect and collaborate with residents.
"I learned some perspective that I didn't have – like if you live in a historically-disinvested neighborhood, and some lady comes to your door and says, 'I'm from Habitat and want to throw a party on your block,' there are a myriad of reasons you might not be very excited about that," she said. "A lot of has to do with your past experience with nonprofits or your experiences with your neighbors or something else. I originally expected people to welcome us with open arms, and that was misguided for sure."
However, she said she learned how to partner with neighborhood residents, and the events Twin Cities Habitat for Humanity in both Frogtown and Jordan in Minneapolis went well. She said she hoped they forged a stronger relationship between residents and Habitat for Humanity.
In her following terms, she served as an Individual Volunteer Coordinator, which meant that she helped Habitat for Humanity recruit and train individuals who showed an interest in volunteering with the organization, either at a building site or in an office setting. The position also helped her data management skills, she said. She collected strong data points about volunteers and why they chose to support Habitat. This data helps a great deal in applying for grants, she noted, and it tells a great story.
"I'm really excited because one of the things we're working towards is increasing retention so our volunteers come back two or three times rather than one and done. That has gone up over the past couple of years," she noted.
Finding Community in AmeriCorps
Shannon said that one of the most meaningful pieces of her service was community. She said she had never known how to make friendships after finishing school, and service in Habitat provided a group of like-minded colleagues.
"I have so many amazing friends now from my AmeriCorps program," she said. "There's something really special about when you get this group of people who all have a desire to serve. Those connections happen because you all have this value in common together and are serving together. I'm really grateful for that."
Additionally, Twin Cities Habitat for Humanity offers affordable housing options for many of its members – specifically, two small apartment buildings with four 2-3 bedroom apartment units. She was able to move into one of the apartments and said the lower rent helped her income stretch much further. Plus, she got to know her fellow AmeriCorps members all the better.
"It's a really cool chance to build community with your fellow members because they're your roommates and your neighbors – they're the friend you have the bonfire with out in the backyard on a Friday night," Shannon said.
Moving to Washington, D.C.
Shannon completed more than two years of AmeriCorps service in early August 2019, and moved to her next life chapter in Washington, D.C, where she is beginning her first year at Georgetown Law School.
"Something I've learned at Habitat and in past volunteer opportunities is there all of these complex systems that people are trying to navigate, and we're not informing them well enough to navigate those systems. The housing system is an example of that. The legal is system is also an example of that," she said. "I'm really excited to go to law school to learn how it works and learn that language so that I can help people navigate through these systems."
The AmeriCorps education award will help with law school, but she noted that her AmeriCorps service itself also helped to strengthen her application and signal her commitment to ideals that Georgetown cares about, too.
"My acceptance letter from Georgetown had a little note about how they were excited to have me there and share my passion for public service," she said. "It gives them perspective on you and what you're about outside of an academic context."
Additionally, her years of service between undergraduate and law school have truly benefited her personally and emotionally, she said.
"Taking a break between undergrad and graduate school can be really good for you if that's an option that's available to you," she said. "I learned a lot in terms of real-life skills, doing something different for a couple of years. And I think it will serve me well for law school. Plus, I'm ready and excited to be studying again, and I needed some time after finishing my undergraduate work to feel ready to get back to school again."
— Shayla Thiel Stern
Learn more about AmeriCorps service in Twin Cities Habitat for Humanity and other Minnesota AmeriCorps programs.