Anna McCallum is a Literacy Coach at Reading & Math Inc. (RMI) and she will be using her background in education to consult with families in the new initiative to bring Reading Corps and Math Corps to students who are learning at home during the time of Covid-19.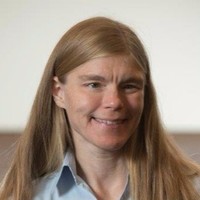 How did you come to work with Reading & Math Inc.?
I have a background in education and child psychology, and I originally went to grad school to work with kids in inpatient therapy. When I moved back to Minnesota from Montana, where I got my grad degree, I got involved at the Fraser Child and Family Center, and that work prompted me to go back to school for a master's in teaching from Hamline. At that time, I was volunteering at St. Paul Open School, and they needed Reading Corps tutors. The teacher I was working with said Reading Corps was great, and I ended up serving as a tutor for two years in Reading Corps. I later became a Reading Corps Fellow. I got promoted last year to Learning and Training Coordinator at RMI, which has prepared me to do master coaching. My current position is Literacy Coach.
And now you are also involved in providing Reading Corps directly to families and caregivers whose children are doing virtual learning. What are you doing?
When a family is interested, I'll be involved in doing initial consults. And it's a lot of finding out about the children themselves. Like what do they like, what motivates them, what school they go to, what grade they're in, just getting a little background about how they're learning and what the family sees as a need in reading or math or both.
Then if they are interested, we'll do an assessment. Depending on the grade level of the student, we can do letter sounds, nonsense words or one of the oral reading fluency (assessments). If they would like help with math, we have a K-3 benchmark assessment or the grades 4-8 assessment that we'll give them depending on what grade level they're in just to see if they qualify. And then on that particular call, we'll look at their scores. So if they qualify for additional help, we will set them up for tutoring sessions, which will be done virtually.
The tutoring could be anywhere from two to five days a week, 15 to 20 minutes a session, and it will vary depending on the needs of the family and student.
Why do you believe so strongly in the mission of Reading Corps and Math Corps?
Part of the reason I believe in it is that from the teaching background that I have — and I can see that it works. But also coming from a family that values education who didn't actually have a lot of educational opportunities makes me believe it in all the more. My grandfather was a migrant worker. He had to drop out of school in eighth grade. My grandma was a Holocaust survivor, and so her first language wasn't English. Because of all the missed opportunities they had growing up, they really wanted to encourage their children and their grandchildren to get an education and that reading is essential. Without reading, you can't navigate the world. I mean, it's not just for school – you need to be able to read to apply for a job. You need it to be able to drive and to navigate so many different things in your world. You wouldn't have those opportunities if you weren't able to read, and that sparked my love for education.
How do you think Reading Corps and Math Corps are going to translate in this direct-to-families initiative?
A lot of our families are super busy. I mean, they were super busy before this and they're super busy now because they're not just working or working from home. They're also their kids tutors — their kids' teachers. And I've talked to friends who are parents that are like, okay, we've got this whole "Online Academy" at home now, what are some ways we can actually help? Like, "I don't want to just sit there and stare at the screen with my child, but once they're done with this, what do I do? How do I translate this? How do I help?" My hope is that his will help ease the burden on families.
Another hope that I have is that families and caregivers can see what goes on in tutoring and why it is so helpful – like, this is what happens if your kid has Reading Corps and this is what happens in a typical 20-minute session. These are the skills we're working on. Then they can better see how to extend that learning to what they're learning in the classroom, and they can better understand how to also help their kids at home. We hope to help families become more involved, too, so they aren't just feeling lost as to how to help their child, and we are working on ways to do that, too.
###
Do you want to learn more about this new initiative to bring Reading Corps and Math Corps directly to families? Here's how to works:
If you are a Minnesota family with a child in PreK – 8th grade, it's easy to get started:
Visit Reading Corps/Math Corps online for a personal consultation – it's FREE! — minnesotareadingcorps.org/families
Meet with a literacy or math expert to discuss the needs of your learner(s)
Based on the identified needs of your student, you'll either:
Be matched with a reading/math specialist who will work with your learner(s)directly
to provide skill building and practice (likely in a virtual setting) and/or
Receive resources and activities you can do at home to support learning
Schools across the country rely on Reading Corps and Math Corps to support students who need extra help. Our highly trained specialists focus on skill building and use research-based activities proven to work. For homework help and other assistance, please contact your child's school.