Meet Anne Sinclair, Chief Learning Officer at Reading & Math, Inc. – the organization that oversees Reading Corps, Math Corps and other AmeriCorps programs
After completing her doctorate, Anne Sinclair knew that she wanted her work to make a direct impact on young students. When offered the position of Chief Learning Officer of Reading & Math, Inc. (RMI) in 2019, she moved across the country to Minneapolis because she knew that RMI and ServeMinnesota actively and effectively implement evidence-based practices in schools. This fall, she and the team at RMI and ServeMinnesota decided to take their expertise in helping students' success in school to helping them while they are learning at home – which is the new reality for so many.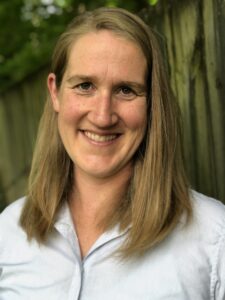 In this interview, Anne discusses why she knows Reading Corps and Math Corps provide solutions in this time of Covid-19 upending the "normal" school year.
Now that so many students are home with their caregivers trying to learn online, what does that mean for student learning?
We are in a pandemic, and schools and parents and other caregivers are trying to navigate a really changed world of education and educational opportunities, and it's really hard. It's all new. People are having to learn a lot of new systems, a lot of new technology, a lot of new ways to connect with kids, because what we have had available to us in the past is not available to us in most cases now. This is why we are excited to start offering Reading Corps and Math Corps directly to families.
We have used schools as one means of providing high quality interventions to kids. We think it might be useful to also provide those interventions directly to families who may or may not be already be served (by Reading Corps and Math Corps) in their schools. Because schools are strapped, they're trying really hard to figure this out too.
How is providing Reading Corps and Math Corps assessment and interventions to families the same or different from providing in a school context?
Since we don't have schools supporting student selection for the services, we have trained coaches who have worked in our organization for awhile to field requests from families for tutoring. We'll do the same kinds of screening activities that we do usually with kids to determine what interventions are a good fit for the kids whose families are asking for help. Then after the coaching sessions, we'll be pairing those families with tutors who have already been trained in our interventions and how to deliver them online. It's not all that different from a tutoring session in person.
What continues to drive you in this work during this challenging time? What keeps you up at night?
For me, I think the inequities in educational access to opportunities are really surfacing for me. I have a kindergartner, and we're in a public school where they're doing completely virtual instruction, and that's really hard. So even under the best of circumstances, I am lamenting that educational opportunities are not the same for all kids, especially as things look different across the state and across the country. Finding novel ways to reach all kids with high quality intervention and high quality instruction is motivating to me. And this seems like one way to reach kids who may, or may not be receiving high quality instructional experiences.
###
Do you want to learn more about this new initiative to bring Reading Corps and Math Corps directly to families? Here's how to works:
If you are a Minnesota family with a child in PreK – 8th grade, it's easy to get started:
Visit Reading Corps/Math Corps online for a personal consultation – it's FREE! — minnesotareadingcorps.org/families
Meet with a literacy or math expert to discuss the needs of your learner(s)
Based on the identified needs of your student, you'll either:
Be matched with a reading/math specialist who will work with your learner(s)directly
to provide skill building and practice (likely in a virtual setting) and/or
Receive resources and activities you can do at home to support learning
Schools across the country rely on Reading Corps and Math Corps to support students who need extra help. Our highly trained specialists focus on skill building and use research-based activities proven to work. For homework help and other assistance, please contact your child's school.