Jane Leonard has an impressive résumé­ that reflects the broad range of her three decades of work in public policy, nonprofits, communications, consulting, philanthropy and government, including working for DFL, Republican and Independence Party governors — but she often says that she's really only had one job, which she has ported from employer to employer. "I've always done community/economic/rural development, and found places where I can do that work, whatever the sector." she says. Today, she's doing the work as the president of Growth & Justice, a progressive, St. Paul–based research and advocacy organization that develops public policy recommendations for smart investments in practical solutions that lead to broader prosperity for all. Leonard joined the ServeMinnesota board of directors in 2019.
Q. A passion for equitable community development — for urban, rural and suburban communities — has always run through your work. Where does that come from?
A. I was born in Minneapolis and in some ways I feel like I was raised on my grandparents' farm, where I spent every summer, and which my siblings and I still own. Our family moved to the suburbs of Washington, D.C., when my dad got a job working for Orville Freeman [governor of Minnesota from 1955 to 1961, and U.S. Secretary of Agriculture from 1961 to 1969]. So I had this experience of growing up in city, rural and suburban environments. And my first job after college was as a journalist at the Norman County Index in Ada, Minn., where I wrote about community life in small towns and agriculture.
I came to realize that the best education I had was being an observer in all these places that were different, but where community was always preeminent. It's that intersection of people and places that has informed my life and my work — advocating for the interdependence of us all, rural and urban and suburban, and trying to bridge those worlds.
Q. How does Growth & Justice help to build that bridge?
A. We're a policy organization that focuses on supporting business growth and taking care of the community, everywhere in the state. The conditions that lead to business growth also involve a high quality of life — investments in education, transportation and all the other things we depend on as a common-good society also help businesses grow.
Growth & Justice was a very pointed name choice when we were founded 20 years ago: Our founders were really committed to fairness in who pays and who benefits, and to the role that social justice plays in economic justice. Now, we do much of our work with a focus on racial justice, partnering with organizations like OneMN.org, a coalition of groups representing Asian, Latino, African and Native American (ALANA) nonprofits and business organizations.
Q. Growth & Justice has been described as not just a think tank, but a "think-and-do" tank — what form does that work take?
A. Well, the "do" part comes in when we listen to people at the community level rather than just creating policy out of thin air. With OneMN.org and the Thriving By Design Network—Rural and Urban Together, we created the Minnesota Equity Blueprint in 2020. We had more than a dozen gatherings around the state of people who offered recommendations alongside those of experts in the public, private and nonprofit sectors. The blueprint contains more than 140 recommendations for building a more inclusive economy and finding more common cause between urban and rural Minnesota.
One of the examples the blueprint highlights is the work of the Region Five Development Commission and other partners in central Minnesota to create Sprout in Little Falls — a community resource that's a great reuse project based in an old boat factory. It's a multi-use, multicultural, multi-sector marketplace that includes everything from local food to artists to business incubators. We want people to understand that this kind of work is happening all over Minnesota.
This year, we've just released the Minnesota Equity Map, which is an offshoot of the blueprint. It shows places all over the state that, like Sprout, are nodes of equity and inclusion and welcoming communities; our hope is that it gives people a sense of what's happening and that it helps build connections among urban and rural partners and allies for racial justice.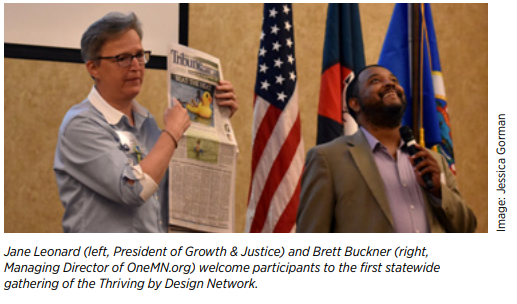 Q. What inspired you to join the ServeMinnesota board?
A. My first job in state government when I was in my twenties was in State Planning, in the Community Environment Office, which was all about people working together to help communities improve themselves. People want to work together and tap their sense of purpose to help each other — and ServeMinnesota gives people that opportunity. When I joined the board, I was also asked to be an advisor to Lead for Minnesota, which brings young people to their hometowns and other small towns to give back and to learn from people in the community.
ServeMinnesota epitomizes the best of all of us as Minnesotans. It shows what we can do for one another when we come together in service to our state and our communities. I'm really proud to be part of that, and so proud that ServeMinnesota is a leading organization in the country and a model for other states.
Q. From your perspective as a board member, what do you see as the biggest opportunities for ServeMinnesota right now?
A. Math Corps and Reading Corps are so important, especially with remote learning — the outcomes are incredible, and it's key to keep that going. Some of the newer, emerging areas like environmental resilience and climate change work are quickly growing in importance, too. And woven through everything is the commitment to equity and racial justice. As a leading organization that has the respect of the legislature and other leaders, ServeMinnesota can really be a beacon in all of these areas.
By stepping out into other fields of endeavor with the environmental work and Recovery Corps, for example, we're showing how it's done. And we also show that you can't always solve problems by throwing some massive policy change at them and hoping people will change their behavior. One of ServeMinnesota's strengths is working with people wherever they're at — not only physically, but also by making connections between people at that human level.
Our democracy is propelled by both an economic framework and a societal framework, and those things are meant to be in balance. What ServeMinnesota does is help bring that balance back — to ensure that we honor and respect and value civic-based society as much as we do our market-based economy. ServeMinnesota and the people who believe in it and support it are those who make sure we're running in balance … because they know that if you get off balance, you fall on your face.