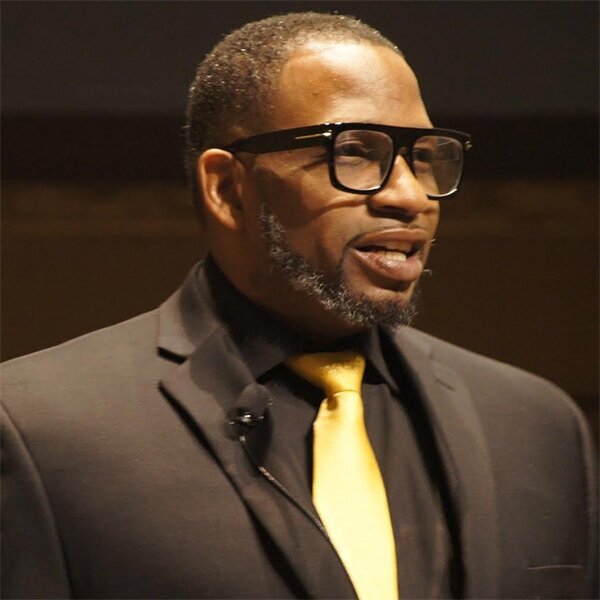 "There were a lot of bumps, a lot of setbacks, a lot of recurrences," Marc Johnigan said about his own long-term recovery from substance use disorder. It wasn't easy, and he credits the community around him with helping him keep going. "Having people standing by my side and not giving up on me made all the difference in the world."
Marc wanted to give that same community to other people in recovery. So, he started the Twin Cities Recovery Project (TCRP), a culturally-specific community organization and multi-service agency serving the Black community in the Twin Cities. From the very beginning, TCRP provided substance-free social gatherings and community building, an essential part of recovery. Under Marc's leadership, TCRP now also offers grief and trauma support, GED preparation services, HIV testing and awareness, Narcan training, support groups, and more. TCRP also offers direct peer support to people in recovery, including Recovery Corps members who provide resources and support. (By the way, Recovery Corps is currently recruiting – learn more!)
Marc's involvement with recovery goes well beyond TCRP; he's served as a national advisor to the Surgeon General and serves on the board of Minnesota Association of Resources for Recovery and Chemical Health (MARRCH) as well as on ServeMinnesota's own Opioid Task Force, among others. He also organized "Boots on the Ground," a national virtual conference on community-based recovery services and stigma reduction.
We think Marc's work exemplifies the national Recovery Month theme "Recovery is for everyone." He believes in meeting people where they are, wherever that is – and that belief shows up again and again in his work. Below is our conversation with Marc.
Q. What led you to work in the recovery space? 
I am a person in long-term recovery, so of course there was a journey getting here. My substance use disorder was brought about by trauma and sexual, verbal, and physical abuse, which led me to seek out ways of feeling good about myself. Ultimately that led me into a 25-year addiction to crack cocaine
I have had a lot of support over the years in recovery, from my mom and dad (and other family members), friends pastors, my peers in recovery, and my own tenacity. Having such strong support made me want to provide other people with the same opportunities and resources that I had.

Q. Could you talk a little bit about the social club aspect of the TCRP?
Our social club is made up of a DJ, card playing, dominoes, pool, ping pong, dancing, and food. We create that atmosphere for people to really feel comfortable and engaged. We want people to be able to do things that they have, in some cases, never done without a substance. This creates an opportunity for transformation. It gives people a way to have a good time without substances. They won't need to reconnect with family and friends who may be still using substances. 
We were formerly known as the Twin Cities Recovery Social Club. We soon realized that we were much more than a social club. Now we offer a variety of services to address historical and current traumas in addition to the social club. For example, we offer a grief and trauma program, which is an eight-week program to bring education and awareness around trauma-informed care and the stages of grief – not limited to death, but also childhood trauma, broken relationships, loss of jobs, and other life events.
Q. TCRP also offers peer support services. Could you share more about that?
In our peer support program, we use a harm reduction approach. We meet individuals right where they're at. Even if they are still using substances, then we find ways to offer the necessary resources to enhance other aspects of their lives. 
Direct peer support is very important because it's being offered by individuals who have lived experience of substance use and have received special training. Our peer support specialists have been through a 46 hour curriculum, taken the state exam, and had additional continued education to equip them to be able to serve the community. It's very important that people in recovery have the necessary resources to connect to people who are in recovery, who are modeling recovery, and who have had a lived experience of substance use.
Q. How do Recovery Corps members support the work you do with the Twin Cities Recovery Project? Recovery Corps members are part of our direct peer support program. They help people in recovery navigate their recovery process by connecting them to the necessary community resources. They are called Recovery Navigators; another word for it is resource brokers. As a smaller organization, having Recovery Corps members increases our capacity and deepens the sustainability of our organization. 
Recovery is a movement. We need as many peer recovery specialists, coaches, navigators, on hand to be able to provide services. Without an organization like Recovery Corps, a lot of organizations would not be able to carry out the work.
Q. What does the need for recovery services look like right now?
The need is huge. There's so much work to be done, especially in our community, because there's so much stigma associated with substance use, which stems from how historically we have been penalized for it. For example, if you have an individual who dies from an overdose, the family is not going to say their family member died from an overdose. They're going to say they died from some pre-existing conditions. 
And when you think about that, why aren't they willing to say that? Because what it signifies is that this individual was a criminal. Because historically we have been criminalized. And so the work is reversing this narrative in our community – that this person wasn't a bad person. They are suffering from a disease, just like someone who suffers from cancer or high blood pressure. We have to continue to educate the community so that people will be more open to even receiving help.
Q. What does "recovery is for everyone" mean to you?
When I first heard that phrase, I thought about the many social determinants of health, the many systematic barriers to care, and the criminalization of substances specifically imposed on the African-American community. Those roadblocks and barriers have held African-Americans back from accessing recovery. 
I believe that those who are providing recovery services to a particular community should look like the community that they're serving. They should have a particular set of cultural competencies so that they can properly support and connect that community to the resources that are the best fit. And so when I think about "recovery is for everyone," it has to be inclusive. 
At the end of the day, the traumas may look different, but pain is pain. Everybody has a right to recover, and not be penalized, shamed, or feel guilty because they have a disorder. They have a disease and it's not a moral failing.
 Q. Can you talk a little bit about what it's like to be in recovery yourself and be able to give back to your community in such a profound way like you do?
It's a dream come true. I remember having these dreams of one day being able to make a difference. I didn't have a clue what that looked like. Now to be able to give back to my community I think the most important thing is to always remember what an individual may be going through and not to judge them. I think it's imperative not to judge or shame people but to rather offer them the hope that they are desperately in need of.