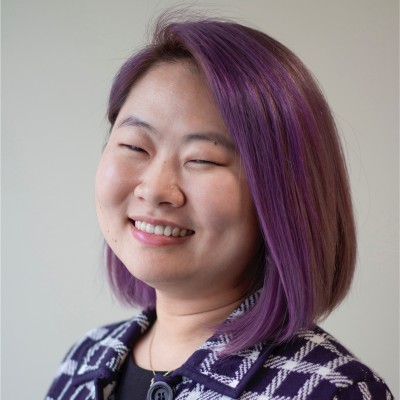 After graduating from college in South Korea, Sumee Lee returned to Minnesota to serve as a Math Corps member in her former elementary school district in Roseville. She worked alongside her third grade teacher – who was still there, over a decade later – to serve students whose families had made Minnesota a home away from home, like Sumee's own family. Soon the students started saying that they wanted to teach math, just like Sumee. 
Moving between the United States and South Korea during her childhood has profoundly affected Sumee's professional and personal path. Having felt like an outsider in both countries, she knew she wanted to help create systems of inclusion. To her, public policy seemed like the most promising path towards this work – so she went to grad school at the Humphrey School of Public Affairs, where she became the President Bill Clinton Diversity and Inclusion Fellow. Her experience at Humphrey led to her work in the Governor's office as an Outreach Liaison and Policy Advisor to the General Counsel, and then to Livio Health, where she leads community partnerships. 
Sumee found her way back to AmeriCorps in 2017 when she joined ServeMinnesota's Board of Directors. Following her personal connection to equity, inclusion, and representation, she worked with Dr. Sandy Pulles, Vice President of Equity and Inclusion, to form the board's Racial Equity and Inclusion Committee. She also serves on the Executive Committee, the External Relations Committee, and the Program Development Committee. "I say this often but I'm not sure if it conveys the magnitude of what it means," Lee said. "Looking back at my whole journey in Minnesota, it's really threaded through AmeriCorps."
Q. What was your experience as a tutor like?
A. I served at the same service site, an immigrant-impacted elementary school in Roseville, for two years. Right around the time I began my service, there was an influx of new Karen Americans in our school district and the majority of our classrooms were new American Asian students. The older students I hadn't even worked with started telling me, "I want to be a math teacher, too." The teachers that I was working with were surprised because they were used to hearing that the students wanted to be a K-pop star or a soldier. Learning firsthand that representation matters for school age children profoundly impacted me and helped me narrow my career focus to race equity and public policy.
Q. What's it been like to be a board member, especially after having served as a Math Corps tutor?
A. It's been such a great experience. I was a tutor for two years and I've been a Board member for a little over four years now. In my role as Board Member, I get to see a bigger picture and witness the impact ServeMinnesota makes not only in Minnesota but across the country. I serve on the Committee for External Relations and the Committee for Program Development, in addition to the Executive Committee. I'm also the Chair of the Racial Equity and Inclusion Committee.
Q. What do you think drew you to equity and inclusion work?
A. I think I'm naturally attuned to equity and inclusion because of my experience of growing up in two very different cultures. I grew up going back and forth between a small town in southeast South Korea and St. Paul, Minnesota. I've experienced being excluded in both cultures and experienced being included and being able to thrive in both cultures. That experience especially has given me a desire to create inclusive spaces and celebrate representation.
I also feel attracted to equity and inclusion work because I see the possibilities. I believe it's possible to live without discrimination or racism being the main motivation for a lot of unnecessary evil in our world. Part of that belief comes from my experiences attending an international school college when I was in South Korea. People from many different backgrounds came together under a "why not change the world?" motto to dream collectively of building sustainable change for a better future.
Q. You've had some really remarkable professional experiences. Could you talk a little bit about how you see those experiences relating to each other?
A. I always knew I wanted to create an impact on a large scale. At first, I thought I wanted to work in education policy since I grew up in two very different school systems. I wanted to change the things I didn't like from one system as a child because I knew there were better ways out there that I'd experienced from the other system. That's initially why I became a tutor – I knew experience in a classroom would be essential if I wanted to work in education policy. 
After serving as a Math Corps tutor, I was still interested in working in policy but it became clear that my focus had to be on diversity and inclusion, so I began my master's degree at the Humphrey School of Public Affairs, where I served as the President Bill Clinton Diversity and Inclusion Fellow. At Humphrey, I learned more about the history of social policies that shaped race relations in the U.S. and the world as it is today. After graduate school, I worked for the Governor of Minnesota. Those were some of the most exciting career experiences. I traveled the state and learned to find common ground with fellow Minnesotans, I learned to make decisions at the leadership level with the most disadvantaged Minnesotans in mind, and I learned that you can really make a change if you are willing to lead it. 
With the transition of administrations in the highest level of state government, I decided I wanted to get back to working closely on issues that directly impact race equity, which led me to Livio Health. At my job, I get to help improve the social determinants of health by building relationships with partner organizations that serve older adults in Minnesota and lead our data and strategy work pertaining to racial health equity outcomes for our end-of-life patients.
Q. ServeMinnesota formed the Racial Equity and Inclusion Board Committee relatively recently. What are your hopes for the future of the committee?
A. One of our major focuses so far has been understanding the service experience of our BIPOC AmeriCorps members. We've hosted focus groups and surveyed our members and gained insights on what's been working well and the areas we could better support our members on. We have several exciting initiatives Dr. Pulles and many ServeMinnesota staff are working on. I can't wait to see them unfold. 
One of my strongest visions for the future is to create an alumni group and a mentorship program for people who are drawn to service. It's been a dream of mine since I was an AmeriCorps member myself. There are so many AmeriCorps alumni who are doing amazing things after their years of service. Bringing together alumni and current AmeriCorps members could not only create a strong synergy for good but also be of resource to current AmeriCorps members while they figure out that next step after service and really take their service experience to make it a foundation of their career.
Q. What's your approach to leading committee meetings?
A. I've really been focusing on relationship-building between members of the committee. One way we've been doing this is through taking time to talk about our personal narratives related to race. I've been learning so much about my fellow board members through these two sessions that I didn't know for the past four years I've been in the same meetings with them. My hope is that having conversations like these will allow us to have tough conversations about race and allow us to bring our truths to our conversations.
Q. What strengths have helped you continue to push for equity and inclusion throughout your career?
A. One of my StrengthsFinder strengths is "restorative," which means that I easily notice what needs to be changed. Not only that, but I have a strong desire to be part of that change. I always thought I was the Debbie Downer when I voiced my thoughts on things to be fixed. But I've realized that this is a strength. I have a better insight into the problems I notice and bring them to the forefront because I know problems can be fixed and the world can be a better place.
Q. What do you want people to know about ServeMinnesota that they might not otherwise realize?
A. One thing about ServeMinnesota – we're not shy when we see a problem to take the lead on. We create multi-faceted research-based solutions powered by our own community members. ServeMinnesota staff always come out on top with a mind blowing win-win situation when faced with a complex social issue. That's one of the reasons why I love this organization and I'm proud to join on this journey as a Board Member.