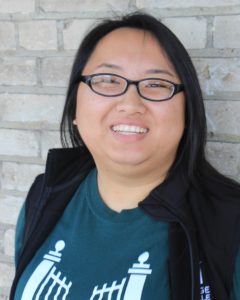 As one of nine children of Hmong refugee parents, Gaochy Yang had not given college much thought.
"In the Hmong community, it's either college or marriage if you're a girl," she said. "Applying to colleges just seemed like a hassle, and I thought I would try to just work after I finished high school."
Gaochy changed her mind when her older sister, Mae, "dragged" her to a meeting at her Minneapolis high school to participate in College Possible, a program that helps low-income high school and college students to access and succeed in college. She reluctantly signed up along with her sister.
Now, seven years later, Gaochy — now 24 — has graduated from St. Olaf College with honors, and her first goal was to give back to College Possible for what it did for her: She signed up to serve as an AmeriCorps member in College Possible.
Gaochy's Journey
Following Mae to College Possible was the first step in her journey. She credits her high school College Possible coach, Hannah, with keeping her on track and reminding her why she should go to college.
"I think it was just great having high hopes from someone who didn't grow up with me saying, 'This is an option for you and you can do this,'" Gaochy said.
Hannah encouraged Gaochy to apply for the Gates Millennium Scholarship, which she won and used to cover all her tuition and expenses at St. Olaf. Part of her college experience was a unique St. Olaf domestic study abroad program that focused on health inequality and social determinants of health in the Twin Cities. This experience has steered her toward a career in public health work, either at a government agency or non-profit organization.
Additionally, she visited seven different countries in a "Global Semester" study-abroad as a junior, and she spent a semester in South Africa as a senior. When she talks to young Hmong students about going to college now, she tells them about the effect of being away from home for four years and seeing the world.
"Four years away from home at St. Olaf in Northfield, and being able to study abroad, changed my life," she said. "It was especially impactful to go to South Africa. At that moment, I realized you know, hardly any other Hmong people had ever been to South Africa. Hmong people – we don't go to Africa! Our people are nomadic. And at that moment that I was there, it was just, wow."
When she applied for service with College Possible after graduating in 2017, Gaochy knew that her own college experience would resonate with young Hmong students.
"I tell them, 'You're going to go places where your family and our ancestors have never been and do things they've never done.'"
How She Helps Students
Gaochy said she understands the fear that a lot of young people have about going to college – "fear of being away from family, fear of family burdens, fear of taking out loans" – but her AmeriCorps service in College Possible helps guide them to college. Her position as a community partnership team member involves organizing college visits and running events like college fairs, and she said she is more comfortable being behind the scenes, making sure everything runs smoothly.
However, her impact on students was recognized when she was named College Possible's "AmeriCorps Member of the Year" last year. Gaochy said she was shocked at the honor, and that her main motivation is to help College Possible help others.
"This is an amazing organization that helps our community, and it helped us, and now I want to give back to them," she said.
Why She Chose Service
Gaochy said it was difficult telling her parents that – like her older sister, Mae – she was also signing up for AmeriCorps service with College Possible Minnesota. They envisioned her finding a more lucrative career immediately after finishing college, but ultimately, they were supportive. She now lives at home with them, which she said isn't exactly what she might have pictured at age 24, but it works for their family.
"College Possible is the reason we even have an education," she said. "My parents were very supportive about us getting an education, but they really had no idea what that meant – and they understood that we needed help from College Possible to figure it out."
To Gaochy, the opportunity to give back to her community, plus the additional time to truly reflect upon what she wants to do with the rest of her career, motivates her more than money – and she loves what she's doing.
"I know that a lot of my friends who are working are making more money than I am, but they are a lot less happy than I am. In AmeriCorps, and all of the organizations that are part of AmeriCorps, you wake up every day not thinking, 'I get paid so little,' but 'I am so excited and what I'm doing actually matters,'" she said. "I can't wait for the next day because it's such a great feeling to do this service – it affects my community, and it's just so worth it."
— Shayla Thiel Stern
Do you want to learn more about AmeriCorps service in College Possible? Here is some helpful information on the program.