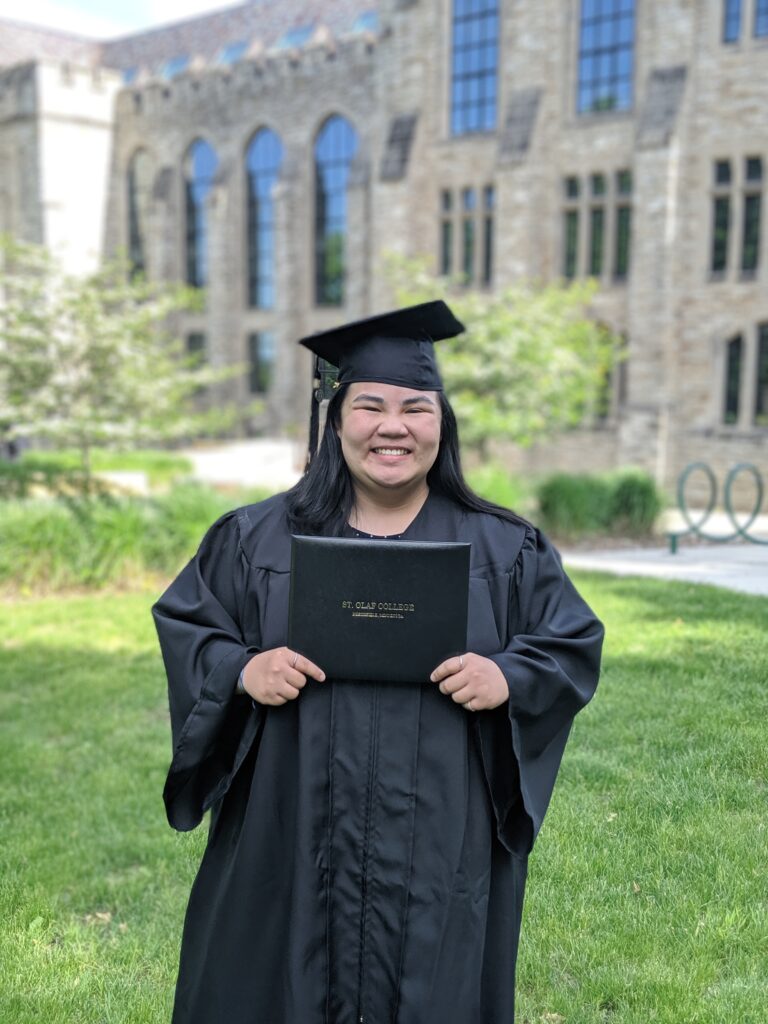 "You're not just one person": Serving at Second Harvest Heartland​
One thing Anna Lahr learned when she was captain of her high school soccer team: it's not about succeeding on your own. Instead, you have to think about how to be part of a group. "You have to understand that you're not just one person," she said. "Everybody needs to be on the same page."
Anna ended up using what she learned as a team captain to help respond to the global pandemic – a situation that likely would have seemed unimaginable when she was in high school. After hearing about the Emergency Response Initiative in a college class at St. Olaf, she joined in May 2020. She began serving at Second Harvest Heartland, where she helped connect Minneapolis residents with leftover food from local grocery stores.
At Second Harvest Heartland, Anna collaborated with a tightly knit team that was constantly communicating with a larger network of grocery stories, food shelves, and community partners. It was no small feat to keep all the logistics straight – tracking what food was available and how to get it to the people who needed it.
Anna, who had never been in an office setting before, found that she excelled at communicating with her new team. "We were all so interconnected," she said. "We had to balance all that communication. I feel like it really brought out that strength in me."
Contributing to a Common Goal at American Indian Freedom Schools
Anna still enjoys striving for a common goal with a team – and in her second ERI summer, she's been able to do that with American Indian Freedom Schools within the Robbinsdale Area School District. There, the overarching goal is to connect students with the past and present of people indigenous to North America. This involves teaching against westernized narratives and bringing indigenous community leaders in to share their experiences with the students. 
It's a project Anna is fully committed to. As someone of Chinese descent who was adopted as a young child, she remembers how important it was for her to learn about the history of China and to learn from people of Chinese and Asian descent. "If I could have had a mentor before college to help me understand my background, I think I would've loved that. I think it's very important for these kids to have that."
"It's hard to read westernized history books that focus on all these horrible things that happened to your ancestors," she emphasized. "I want these students to know their own power, and that they are more than what the history books are teaching them."
Anna draws on her experience as a team captain when she helps kids of a variety of different backgrounds, races and ethnicities at American Indian Freedom Schools, making sure to check in with them like she did with her soccer teammates. "It's about learning what their backgrounds are, listening to them and trying to get them the help that they need," she said.
With her strong connection to athletics, Anna initially thought she'd end up in physical therapy, but eventually hit on social work as her future career. Her AmeriCorps experiences have helped her realize she is on the right path as she starts her Master of Social Work degree at Minnesota State University, Mankato this fall.
"I think serving at Second Harvest Heartland really was the turning point for me," she said. "I really enjoy helping out in the community. I love interacting with people. I love giving back. "