By Jackie Brock, Minnesota Reading Corps and Minnesota Math Corps
AmeriCorps members get things done — and this rings especially true for member Sloane Bratton. Sloane served as a Reading Corps tutor at Fernbrook Elementary in Maple Grove for two years before finding another way to give back to her community through the Minnesota AmeriCorps Emergency Response Initiative. Instead of serving at a school helping students read, she now serves at Second Harvest Heartland in Brooklyn Park connecting people to food resources and doing community outreach.
She says her ERI service comes with many educational moments both for herself and others, and that she has learned so much about all the food resources that are available to people and how underutilized they really are. A major part of her job is making sure people in the community know that these resources are for them to use and to reach out to those already using them.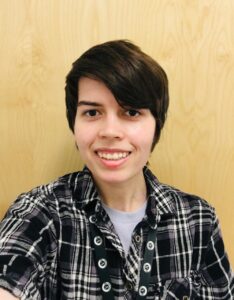 "I'll check in on someone and see how they're doing and they'll say it's like Christmas every month when they get the box of food we send out through our FOODRx program," she said.
Sloane also feels a strong connection between her service with Reading Corps and what she is doing at Second Harvest Heartland. "You have to meet a child's needs in food in order for them to succeed in education."
Sloane's Americorps service has influenced her to pursue a career starting this fall as an education support professional (ESP) at the same school she served as a Reading Corps tutor.
Sloane encourages anyone who is able to commit to service and is drawn to it  to go for it. 
"It's such an incredible experience," she said. "I feel lucky in what I've gained in skills and the chance to meet a lot of amazing folks who care a lot about making a difference for people like I do." 
Learn more about serving in AmeriCorps in Minnesota.