Of all the impressive items in Phil Rutherford's official bio — chief operating officer at Faces & Voices of Recovery, past work in a recovery community organization, a former job at Microsoft — the one that he's most proud of is his "doctorate from the School of Hard Knocks."
That's Rutherford's tongue-in-cheek way of saying that his own experience in recovery is one of his most important credentials in the recovery space. "The thing that saved my life, and the thing I've been able to share with a lot of people in recovery, is my lived experience," he says. "And the people who helped me find my way out of the darkness were people with lived experience in recovery, too."
Harnessing the power of people's lived experience is what Minnesota Recovery Corps is all about, and that's why Rutherford is such an enthusiastic supporter of the program. He was part of ServeMinnesota's Opioid Response Task Force, has recently joined the ServeMinnesota board of directors and will serve as master of ceremonies for the virtual Amethyst Event for Recovery on April 29.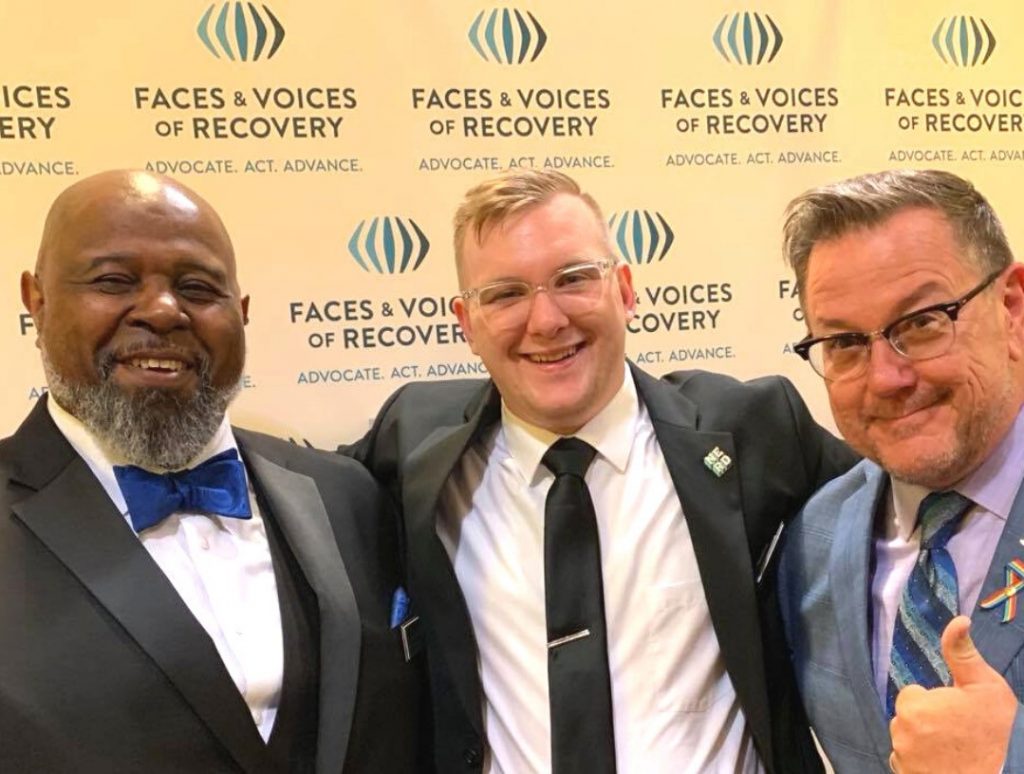 "I joined the board because I believe in the mission," he says. "We've tried a lot of routes over the past 30 years to treat people for substance use disorders. The Recovery Corps methodology and the service structure associated with ServeMinnesota offers something different from the standard 'here's some support, now be on your way' approach."
Peer support is the key to Recovery Corps, which uses an evidence-based model that helps people sustain their recovery. AmeriCorps members who are in recovery from substance use disorders serve as recovery navigators, guiding others who are working to sustain their recovery. As trained peers who understand the recovery journey, they offer support, mentoring and resource navigation.
Faces & Voices of Recovery advocates at the federal level to promote policies that support peer recovery support services, reduce stigma around recovery and help recovery organizations build capacity. The organization encompasses the Association of Recovery Community Organizations and the National Recovery Institute, and has developed the Recovery Data Platform (RDP) — a tool that organizations can use to implement and assess peer recovery coaching programs like Recovery Corps.
Collecting and analyzing data is crucial to making the case for such programs, Rutherford says. For example, data show that after six months in recovery, people have a 20% lifetime likelihood of maintaining a problem-free relationship with substances — but after five years in recovery, that percentage is 85%. "It's clear that applying resources in that six-month to five-year time frame is far more beneficial, and more cost-effective, than sending someone to treatment multiple times in a single year. If we treat people episodically with recovery support services, it's the most efficacious pathway to getting them well."
Data, alongside people's recovery success stories, helps convince federal, state and local officials of the efficacy of peer-support programs like Recovery Corps, according to Rutherford: "When policymakers and other people who are newer to the recovery ecosystem see that structure along with the passion of folks who have been doing recovery work for years, it's a good look. We're able to show policymakers that recovery works."
Join Rutherford, Recovery Corps members, alumni and fellow supporters at the free, virtual Amethyst event on April 29 to learn about how the program makes a difference in the lives of so many Minnesotans. Click here to register.