Houa Xiong remembers how difficult math was for her when she was in fourth or fifth grade.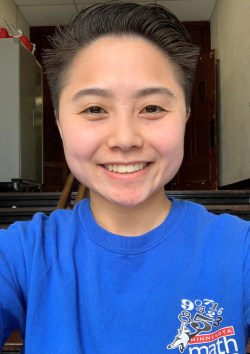 At one point, she said, her teacher told her that she was failing. Determined to learn and improve, she made an effort to come to school early each morning to study math facts all on her own.
Today, as a math tutor with Minnesota Math Corps, she said she wants to make sure that students don't have to struggle on their own like she did when she was their age.
"Coming from a low income background where I struggled with math and science, I thought hey, now is the time to really give back to my community and help kids who struggled with math and science, too."
And as a recent graduate with a B.A. in Physics from Augsburg College and past internships at 3M, the 24-year-old is in the perfect position to do so.
AmeriCorps Members Inspired Her
Houa said she knew she wanted to serve in AmeriCorps when she graduated from college. She knew about AmeriCorps service because of family and friends who served and from programs that served her when she was a high school student in St. Paul.
"I was really young when I was first introduced to AmeriCorps and that was because of certain people who I met then and really want to thank now," she said.
She said two AmeriCorps VISTA members were specifically influential in her success and decision to join AmeriCorps: Mary Kasper, who now works in St. Paul Public Schools, was her academic mentor from The Sanneh Foundation, and Andrea Carroll-Franck, who was her coach from College Possible and now is a program manager with Public Allies Twin Cities.
"Those women and AmeriCorps in general was very motivating and inspiring to me," Houa said. "That's why I just really wanted to do AmeriCorps."
Her Service in Math Corps
Although she is 24, Houa said students thought she was a new student when she started her service at LIFE Prep School in St. Paul. She said their curiosity has worked in her favor because many want to learn more about her and ask her to be their tutor.
"They are all nice kids. Although I wouldn't say I have a super close relationship with any of them, I would say they know they can be themselves around me, and for me, that's the most important part," she said. "They can be themselves. I always say, 'Hey, you know what? The way I think may be different from the way you think,' and they're very open to that."
In addition to being respectful of the students' different learning styles, Houa said she also has learned to motivate them in a variety of ways – which she said can sometimes be a challenge with fourth through sixth graders, especially when it comes to math.
"I've had students come in and say, 'I hate math because it's hard, or boring, or I just don't understand it.' I've learned to be creative in the way that I approach it and engage them. For example, I'll start talking to them about calculus or advanced physics and say, 'Hey, if you can just do these four simple operations, and then it all gets more fun – like you can calculate the speed of light,' and that usually gets them."
Even though Houa has a degree that combines math and physics now, she said she can draw from her early experiences struggling in math to help the students now.
"My favorite thing is just seeing how they are in trouble in the same ways that I was at that age, and then I can show them how to get around that and overcome their challenges," she said. "You know, you don't want to see them struggle, but when they do, I know how to tell them how to move forward."
Continuing to Give in Her Future
When she completes her term of service in AmeriCorps, Houa said she hopes to enlist in the U.S. Navy or other armed services to work in engineering. She also plans to go to graduate school for a degree in either civil or chemical engineering and continue to "give back" to her community in whatever way that she can.
"There's so much more that I want to give in different areas of my life," she said. — Shayla Thiel Stern
Do you want to learn how to serve as an AmeriCorps member in Minnesota Math Corps? Learn more here.