Four years ago, school leaders and community partners at Nellie Stone Johnson Community School in North Minneapolis decided to take a new approach to boosting student achievement.
At Nellie Stone Johnson, 98% of students receive free and reduced-price lunch (90% and above is considered "high poverty" by the Minnesota State Department of Education). A large percentage — 28% of students — are English Language Learners, and 8% are students without stable housing. All of these factors contribute to the opportunity gap at Nellie Stone Johnson: Before 2018, the school was listed in the lowest 5% of achieving schools in the state.
Facing the impact of opportunity gaps experienced by their students due to a variety of factors, school and community leaders decided to embark on an "all-in" and truly collaborative approach to helping students reach their full potential. One of the main strategies was that in addition to using Reading Corps, they would also implement the Total Learning Classroom program.
What is the Total Learning Classroom Program?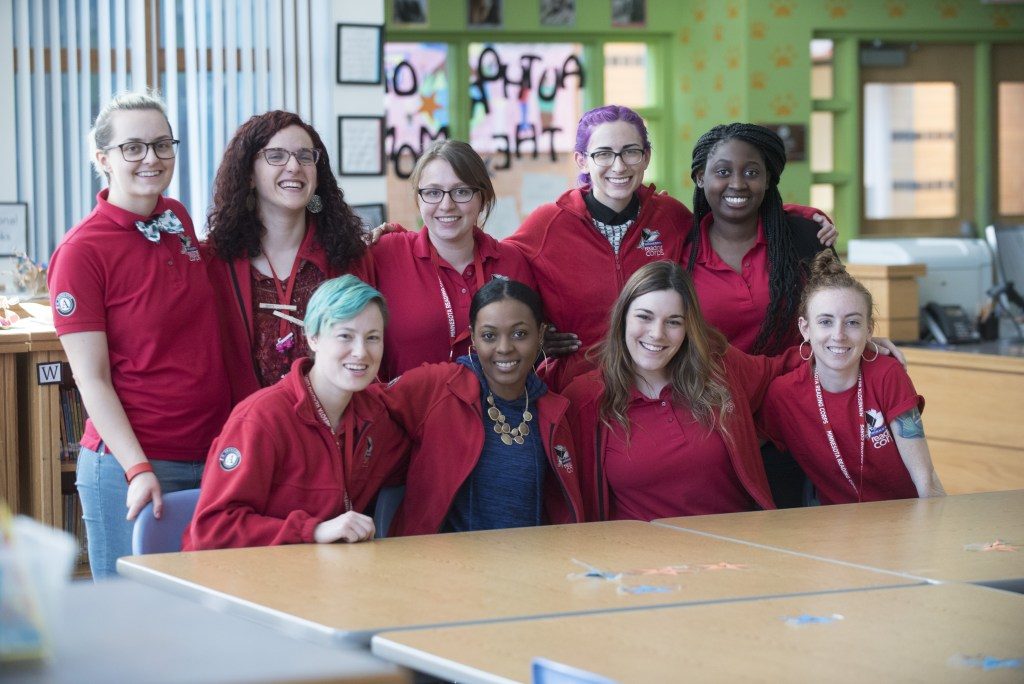 Based on research showing that children who can read proficiently by the end of third grade are more likely to experience academic success, graduate from high school and attend college, the Total Learning Classroom program was developed as a comprehensive support system for schools with high academic need.
"The Total Learning Classroom helps schools and students with high academic needs by implementing evidence-based instructional practices with the support of trained AmeriCorps members in the classroom," said Sandy Pulles, Ph.D., Assistant Director of Equity, Inclusion and Innovation at ServeMinnesota. AmeriCorps members, referred to as Scholar Coaches, serve embedded in a kindergarten through third grade classroom to provide reading interventions, or intensive tutoring sessions, and classroom instruction support. Each participating school also partners with a "systems coach" who works with school leaders to strengthen individualized learning systems so that each student gets the support they need.
The program is currently being implemented in eight schools with leaders who have embraced the idea: Nellie Stone Johnson Community School, Sojourner Truth Academy, Anne Sullivan School, and the Mastery School in Minneapolis; Saint Paul City School, Jackson Elementary, and Maxfield Elementary in St. Paul; and in first grade at Madison Elementary in St. Cloud.

Scholar Coach: An Opportunity for Impact and Growth
While the Total Learning Classroom program utilizes Reading Corps interventions, it is distinct from Reading Corps in a key way: Scholar Coaches are trained to use evidence-based practices to support the whole class and promote student engagement in learning. Andrew Mueller, Associate Director of Innovation and Strategic Partnerships at Reading Corps, oversees recruitment and hiring of Scholar Coaches. Mueller notes that you do not need a college degree to become a Scholar Coach, but the position can be demanding and requires a person with "passion for working with students."
"This position requires the ability to follow scripted materials, commit to a schedule and build a strong working relationship with the classroom teacher. Successful Scholar Coaches must also be highly adaptable and open to receiving feedback through coaching," Mueller said.
He said that above all, a Scholar Coach must be "interested in making a life-long impact in their community. Many Scholar Coaches have moved on to great accomplishments in education – from becoming teachers to completing graduate school. The experience is intense but rewarding in terms of personal and professional growth."
There are other benefits, too: Scholar Coaches are given a living allowance every two weeks, a college education award, free health insurance, child care support and student loan forbearance and interest repayment.
Additionally, Scholar Coaches are part of a cohort of four to 12 other AmeriCorps members in each of their schools, providing the opportunity for community and friendship. Through their service, Scholar Coaches are an important thread in the fabric of students' learning experience.
"Scholar Coaches have also built amazing relationships with students that help students feel that they belong at school," Pulles said.
Colleen Denice-Rossiter, a third-year Scholar Coach at Nellie Stone Johnson, said in a story posted on the Minnesota Reading Corps blog that being able to integrate her classroom teacher's lessons into her tutoring sessions gave students an added boost in their learning.
"The TLC program really was beneficial in that I was able to see what was happening in the classroom and connect that to the tutoring interventions," said Denice-Rossiter. "I benefited so much from watching [the students'] progress and also just watching their whole attitude change."
Progress is Already Evident

In the spring of 2018, Nellie Stone Johnson already had a good story to tell: Data showed that third grade literacy proficiency had more than doubled. Life-long impact for students and AmeriCorps members is one goal of the Total Learning Classroom program, but the program goes a step further by channeling the vision of school leaders to build the school's capacity for increasing student achievement. One of the keys? Supportive leadership and the willingness to make changes at a systems level as well as in day-to-day classroom interventions.
"The most remarkable aspect of the TLC program is the impact of student outcomes when systems changes are made and seeing these changes sustain at the site," said Pulles. "Making changes at the systems level can positively impact all students and staff."
Collaboration and relationship building between Scholar Coaches and teachers is also crucial.
"The 1:1 connection between the Scholar Coach and the classroom teacher enables daily conversations to happen about how students are doing," said Nellie Stone Johnson principal Amy Luehmann. "It makes a big difference."
Sojourner Truth Academy (STA) in Minneapolis is in its second year with the Total Learning Classroom program. Executive Director Julie Guy explained how their work with the program leaders has sparked change and hope throughout the school.
"The Total Learning Classroom program at STA has helped evaluate our school at a systems level and has changed how we deliver instruction in the classrooms with class wide, small group and individual interventions," Guy said. "We anticipate accelerated growth because of this collaboration."
To learn more about joining this transformative initiative and how to become a Scholar Coach, contact recruitment@ampact.us.