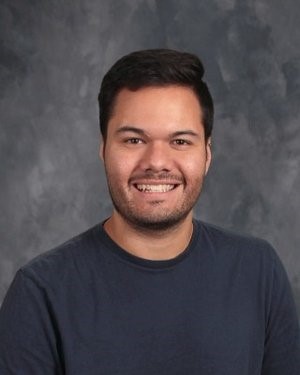 Today, Esteban Rodriguez-Hefty is a successful high school support staff member at Rivers Edge Academy, an environment-focused charter school – living his passion and changing young people's lives every day.
However, when he graduated from college with a business degree in 2014, he would not have imagined himself inspiring youth. He wasn't really sure what he wanted to do with his life, in fact.
"I was kind of soul searching in a sense," Esteban said of that time in his life. "I wanted to move up to the Twin Cities, and I imagined I'd look for something in business, but I saw the listing for the AmeriCorps position for the Community Technology Empowerment Program (CTEP), and I just decided to take a chance and see what it was all about."
He served for a year with CTEP, and is now known for his youth work in non-profit organizations in the Twin Cities. He credits his AmeriCorps service, and specifically, his mentoring and guidance from his program directors and rich experiences serving youth, with setting him on a journey to a fulfilling career.
From Mexico to Minnesota
In some ways, AmeriCorps service in Minnesota might sound like an unlikely first step for Esteban. Born and raised in Cancun, Mexico, he was accepted to college at Luther College in Decorah, Iowa. His dad was Mexican, but his mom was from Wisconsin. She met his dad as a college student at Central College in Iowa when she did a study-abroad experience Mexico. The couple married and raised a family there. However, as a dual citizen, Esteban aspired to go to college and live in the United States; uncles who had attended Luther recommended the liberal arts school to Esteban, and he went there for business. Although he loved his college experience in the rural Iowa community, he yearned to live in a more urban environment after graduation.
"I'm a city guy at heart, though, and I was happy to get back to the city," he said. So, he focused his career search on the Twin Cities, and an ad for
an AmeriCorps member to join the Community Technology Empowerment Project (CTEP) caught his eye.
CTEP's programs aim to bridge the "digital divide" for new immigrants and low-income communities in Minneapolis and St. Paul. With his ability to fluently speak English and Spanish, and his proficiency with technology, Esteban was a fantastic fit for the program.
Overcoming Challenges in Service
Esteban's AmeriCorps service with CTEP was at Neighborhood House in St. Paul. Neighborhood House is a social service agency that has become an integral part of the community on St. Paul's diverse and culturally rich West Side. Founded in 1897, the organization now serves low income families, refugees and immigrants, and other residents in challenging situations. More than 95% of their participants live at or below the poverty line, 96% are persons of color and 93% speak a native language other than English.
Participants and staff work together to identify needs, discuss potential solutions, and create a plan for the future. Combined, the six Neighborhood House Family Centers serve 600 families each year. Although Esteban's service projects varied, one of his main projects was helping high school students in Neighborhood House obtain internships and employment.
At first, however, Esteban said he struggled at first to understand how to best contribute through his service and took some time to build on his strengths.
"But with the help of my managers, I was able to find what my niche was," he said. "When I truly identified what my strengths were, which had to do with engaging with youth, it gave me a clearer focus on what I wanted to do in my service and my life."
A key part was sharpening his listening skills, Esteban said, noting that listening is an important part of working with youth.
"I figured out how to be real with young people and be more honest and open about my life," he said. "I worked on being a better listener. I love talking – I'm a big talker – but I realized I needed to be a good listener as well."
His AmeriCorps service year in CTEP not only sharpened his skills. It pointed him a new direction.
"That's when I really started feeling like, this is the career for me. I really enjoy this – I love working with young people. And a corporate job wasn't in my future anymore," he said.B
Invest Your Energy — But Take Care
After completing his AmeriCorps service in 2015, Esteban – now 27 — went on to fulltime positions at La Opportunidad and Neighborhood House, and in 2017, he accepted a position as support staff member at River's Edge Academy. There, he works to provide social, emotional, behavioral and academic support to students during the school day and helps students identify and participate in enrichment activities outside of school. Additionally, he is the main liaison for Latinx and Spanish-speaking families as they transition their children into high school.
He is also an active AmeriCorps alum with CTEP, recently participating in organizational efforts to increase Diversity and Inclusion within CTEP. His advice for those considering AmeriCorps service with youth is to find balance.
"Give it your all – give it a lot of energy – but also take care of yourself," he said. "Find a balance between giving a lot of your time and energy and effort to the people you serve, but also know when you need to take care of yourself. You have to take care of yourself in order to take care of others."
You can learn more about how to become an AmeriCorps member in the Community Technology Empowerment Project on this website.