By Christy Ohlrogge, AmeriCorps Member from Twin Cities Habitat for Humanity
My past 15 or so months serving with Twin Cities Habitat for Humanity has been a whirlwind of fun, learning and adventure. I have met so many people, conquered so many tasks and never regretted a second. As with most things, now that it's coming to an end I'm sad to see this experience go, but I will always be thankful for how I've grown and all I've been able to accomplish.
I have five life lessons that specifically stand out – nuggets of wisdom that I wish I had when I started my service – that I would like to share with new and prospective AmeriCorps members.
So, let's start the countdown:
#5 The more you learn right away, the more you'll get out of the experience overall.
I have a tendency to jump with both feet AND my entire being when I do something. This generally tends to serve me well, and I really recommend learning everything you can about AmeriCorps. There are tons of programs, benefits and opportunities that you wouldn't necessarily know about unless you went looking for them. For example, I decided to join the InterCorps Council (ICC) of Minnesota right away so I could learn more about my program and as an added bonus get more leadership experience.
Little did I know that I would have some of my best service memories and meet some great friends through the experience of serving on the ICC. To top it off, I have more knowledge about AmeriCorps than most people and can put non-profit board member on my resume.
#4 Learn new things and meet new people, even if it feels out of your comfort zone.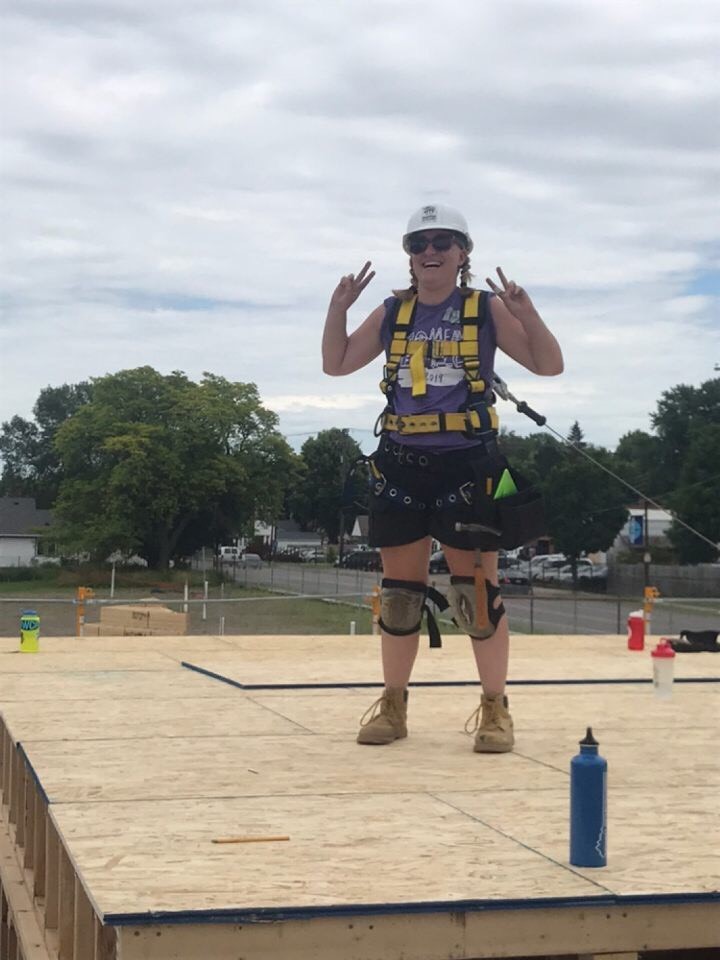 Something that Habitat is especially good at is getting people to try new things, because most people haven't been on a construction site hammering away. So many people walk away from a volunteer or service experience at my organization having learned something new and feeling empowered (myself included). Another benefit to doing learning something new is the potential for finding new passion. I can definitely attest to that too, since I'm moving on to join a carpentry company post service!
Meeting people from other programs and AmeriCorps alumni sometimes can be pretty intimidating too. More than likely, though, you'll make friends and connections that will benefit you for a long time to come.
#3 Your time in AmeriCorps will fly, so don't waste it.
Almost any AmeriCorps member can tell you that they've had a moment at some point or another in their service when they looked back and thought "where did all that time go?" For me, in my last month of service, it has really hit me, and I wish there was more time for me to do so many more things. That's why I recommend hitting the ground right away and doing all you can! Your drive and passion will only pay off, and the program where you serve definitely won't have complaints!
#2 Take the time to have fun without worrying too much about time or money.
This lesson was really hard for me. I lived at home on the opposite side of the Twin Cities from most of the members in my cohort. It saved money to live at home, but I avoided connecting with other members most of the time because of the time and cost it would put on me. I really regret that – and now that I've started to do more with other Habitat members, I wish I had done so from the start.
Another thing to remember is that you may be tight on money, but that doesn't mean you need to limit fun! In my case, I chose to focus my fun on concerts so I still got out and had fun at the same time. Here and there, fun can go a long way to keeping you sane in a year of service that can sometimes be hard.
#1 Take advantage of every opportunity that comes your way.
I can't stress enough how much your service has to offer you, and in more ways than you think. Every event your site has, and every person you come into contact with at your site, is a potential for something to better either yourself or your career. At Habitat, AmeriCorps members regularly interact with volunteers from the surrounding communities. Many Habitat AmeriCorps members that have found future jobs through connections they made with volunteers during their service.
It's also easy to write off events you can't participate in – maybe because you don't need to earn extra service hours or they don't seem to offer an immediate benefit to you. I made it my mission this year to take advantage of every opportunity that was offered through my AmeriCorps service, and I gained a lot. For example, I now have experience in event support because I went to fundraising events as a regular volunteer. Aside from that, events are always fun anyway.
Do you want to learn more about the many ways you can serve as an AmeriCorps member in Minnesota? Visit the ServeMinnesota website to learn more.