The past several years brought big changes to Therese Folsom's life. She took an early retirement from a 14-year career in Human Resources at Target in 2014, moved her oldest child to college and moved with her husband from North Minneapolis to rural Princeton, Minnesota.
And with all the big changes, the recent retiree knew she wanted to continue to do something meaningful in her new community. She first tried a retail job and decided it wasn't a good fit. Then she saw an online ad posted for a Math Corps tutor at the middle school in nearby Zimmerman.
"I thought, this is so cool. It's right up my alley," she said. "I applied and was accepted, and the school I serve at is just 10 miles away."
Helping Teams Solve Problems
In her role as an analyst at Target, Therese said her team's main responsibility was to "test and break H.R. systems" – thank about how end users of those systems might make a mistake or find bugs. She loved the collaboration and opportunity to act as "translator between the designer and the end user."
As a Math Corps tutor, she continues to help teams figure out how to solve problems and to translate systems – only now, she is working with groups of fourth and fifth graders learning math problems.
"Of course, they come in saying, 'I'm really bad at math,' and I say, 'You're not allowed to say that around me.'" She said part of her role is showing them that practice and persistence will help them succeed.
"When I started driving a car I wasn't very good at driving a car, but I kept practicing and I got better. So that's what we're going to do in this room. We're going to practice math until you get better," she said.
"If something doesn't make sense to you one way, we'll think about another way to talk about it."
'The Lights Went On In Her Eyes'
Sometimes it takes a little bit of extra encouragement to get students into the subject matter, Therese said. She recalled one student who had "sort of an attitude" about coming to Math Corps, and who was struggling in fluency with math facts.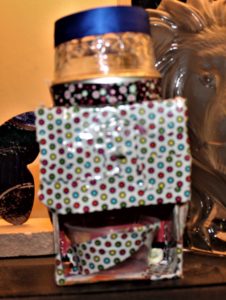 "So I said let me show you something: We wrote out 9 times something – 9 times 2 equals 18, and 1 plus 8 equals nine; 9 times 3 equals 27 and 2 plus 7 equals 9, and so on. I showed her how every time you add the digits and the answer, it always equals 9," Therese explained. "And the lights went on in her eyes. She went all the way down through all the numbers and noted the patterns she could find. From then on, she was happy to be there. She was all in."
That student – who told Therese she wanted to be an architect when she grew up – designed and created a very special present to say thanks to Therese at the end of the school year: A candy machine (pictured in the photo). "I guess I need to replenish the candy before I go back to school," she said.
A Third Term in Math Corps
Therese started her third term as an AmeriCorps member in Math Corps at Zimmerman Middle/High School in September 2019. She said she plans to continue through her fourth term, which is the limit for serving in AmeriCorps. 
She believes in the power of both Math Corps and Reading Corps, and she is working to recruit more tutors for both programs.
"During her last session with me, one of my students took my hand and said, 'I hated school until I got to come to Math Corps.' When I heard that, my heart melted and I vowed then and there to spread the good news of Minnesota Reading Corps and Minnesota Math Corps."
She advises fellow retirees and others not to worry about whether they are up to the task because the training and support will get them up to speed.
 "The support system is so strong and our coaches and program managers are so giving of their time that you'll feel supported. You'll leave Reading and Math Institute (the 3-day training session for all tutors at the beginning of the year) feeling, 'Yes I can do this.'"
Plus, she said, the service gives you a sense of hope.
"The rewards beyond the program benefits, like tuition reimbursement and health care," she said. "Getting to know these young people, and having a hope for the future is such a benefit – especially for retirees. I admire the energy and intelligence of these students I work with." — Shayla Thiel Stern
Do you want to learn about how to become an AmeriCorps member in Minnesota Math Corps? Visit this page to learn more.