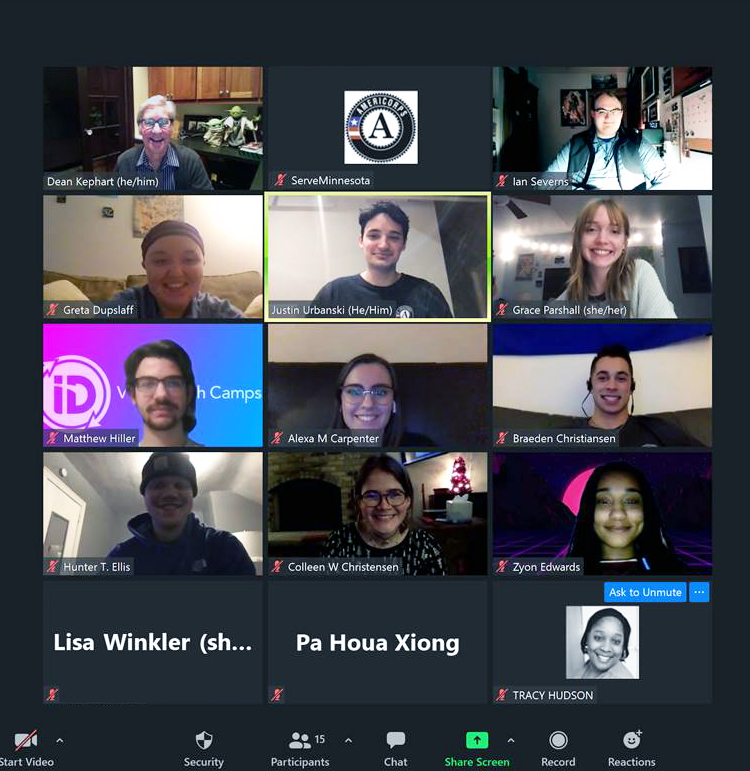 "Design" might not be the first word that comes to mind when you're thinking about what you want to do with your life. More often than not, one thing just leads to the next, right? If you're passionate about something, your career will magically come together. 
Stanford Professors Bill Burnett and Dave Evans, authors of the book Designing Your Life, argue that's not the case. They point out that two thirds of people are unsatisfied with their jobs, and 15% actually hate their jobs. Burnett and Evans think that people can avoid this by using design thinking – the process designers use to make sure products work well for the people who actually use them, also called a "human-centered" approach. Designing Your Life provides the tools to mold your life and career in a way that will work for your needs and goals.
Since 2019, ServeMinnesota has been offering a Designing Your Life course, based on the original book, available to all AmeriCorps members for zero cost. The course is led by Vice President of Insight and Change Dean Kephart, who is a certified Designing Your Life coach. We talked with Dean back in 2019 when the Designing Your Life course launched. 
After two years of offering the course, the results are in: hundreds of AmeriCorps members who took the course gave overwhelmingly positive feedback. Comparing the course's pre-program survey with its post-program survey, confidence among members doubled and feelings of stress were reduced by half. Over 85% of participants now feel confident in making decisions about their life vocation.
"I'm really jazzed up about the future which hasn't happened in a long time," said one AmeriCorps member about the course. "Thanks for opening up this course for AmeriCorps members! It has been my favorite thing this year."
AmeriCorps members can work through each Designing Your Life exercise at their own pace. The exercises include keeping a record of the types of work you enjoy and researching what different careers are actually like day-to-day. Participants can take as long as they want to complete the course exercises – some finish in as little as 25 hours and as much as 60 hours.
The course offers many valuable myth-busting career lessons, such as:
"Success" doesn't necessarily lead to happiness. Designing Your Life teaches that conventional success may not make you happy. Instead, you should understand what your own needs, likes, and dislikes are, and then design a career plan based on that.
There's no one single right answer. One tenant of design thinking is that there's no one single way forward – and that, in fact, it's important to generate many different ideas to figure out the ones that will be best for your future.
It's never too late to make a change in your career and life. In the Designing Your Life paradigm, if something isn't working out, you can always stop and reconsider what might work for you instead.
To participate in Designing Your Life, reach out to dean@serveminnesota.org. The course is open for free to all current and former AmeriCorps members.