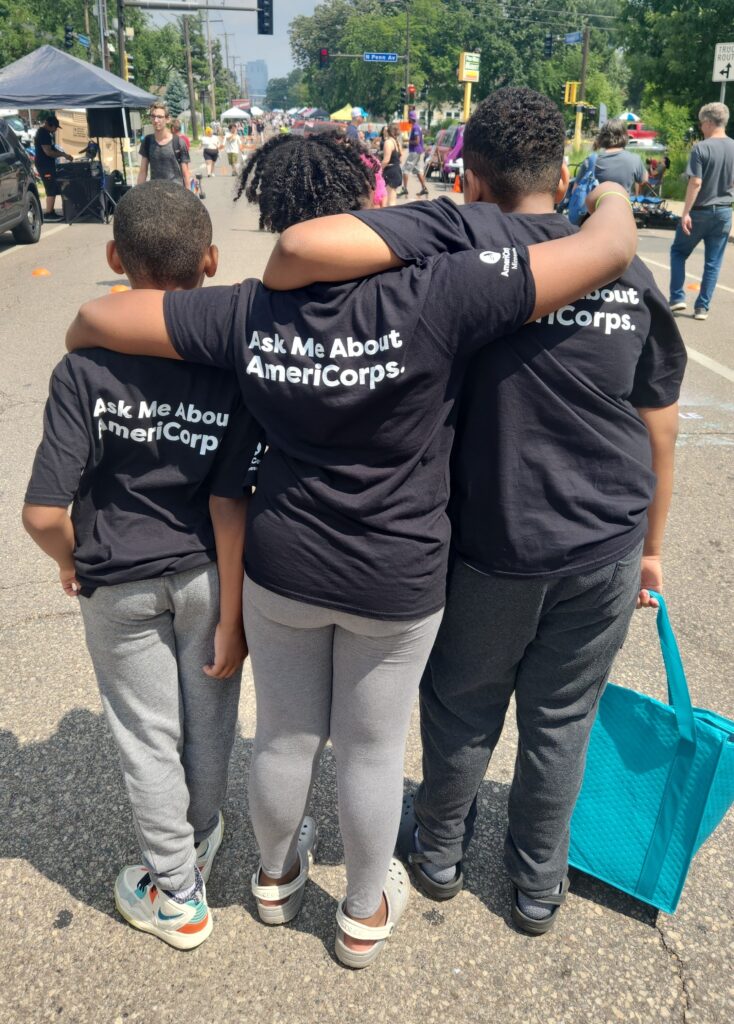 Neitasha is a parent and paraprofessional at Sojourner Truth Academy. She's a big advocate for AmeriCorps – all three of her kids have had AmeriCorps tutors, and this summer, she's helping us recruit for our programs. 
Back in 2019, Neitasha helped parents and caregivers at Sojourner Truth give feedback to Math Corps through a series of focus groups. Those focus groups led to a caregiver-informed app prototype, complete with their students' math lessons and progress – based on the idea that caregivers wanted greater access to what their students were learning. Neitasha is a brilliant facilitator and lends a thoughtful perspective to this work. Here's our conversation with her.
Left: Neitasha's kids are helping her recruit this summer!
When you first became aware of AmeriCorps at Sojourner Truth, you were a parent. What was it like to have your kids be a part of AmeriCorps programs?
My kids attended Sojourner Truth Academy before I ever worked there. That was my introduction to AmeriCorps, through my children, and through their tutors. All my kids have had Early Learning Corps tutors and Reading Corps tutors – amazing extra people who aren't paid by the school to support their needs. Now, my son has had Mr. Don, who's amazing, as a Math Corps tutor for the past two years. And my daughter got to work with him this year.
After starting your kids at Sojourner Truth, you became a paraprofessional there. You were working in elder care before, so what shifted for you?
I was dropping one of my kids off one day, and I was dressed up for an interview. A director at Sojourner Truth looked at me and asked, where are you going? And I said, I'm ready to go back to work, since all my kids are in school now. I'm literally going now to interview somewhere. She asked for my resume and said, we would love you to be here. About two days later I was in a classroom.
It really did work out. I'm still doing what my heart loves and helping a different sector of people. I'm somewhere I believe in, somewhere that pushes my kids and loves them. Working at Sojourner Truth was an easy choice.
You joined the Literacy Curriculum team, where you met Sandy Pulles, our VP of Equity and Inclusion, who was then working as a Reading Corps Coach. What clicked for you two?
At first, I didn't know much about her, but what I knew was the kids loved her. Every time when she came to get the kids, they were like just over the moon to leave the classroom. If the kids love you, you're doing something right.
We quickly bonded over just being like-minded. We were both looking for how we could add equity, how we could add things that the kids could really identify with. We wanted to put more culture in the curriculum to make it look more like the kids we work with.
Sandy made me such a strong advocate in my own school for all of the scholars. She believes in me, and I have carried that with me in everything I do.
In 2019, you and Sandy partnered on some focus groups. What were those about?
After we were on the Literacy Team together, one of the first projects we did was a caregiver focus group for K-3 Math Corps. We wanted to know how parents and caregivers felt about how they were being communicated with during the pandemic. We found that many caregivers felt like they wanted to know more about what their kids were learning and their kid's progress in Math Corps. They also wanted to be able to help their kids with their math homework.
Together, we came up with the idea to make an app specifically for caregivers in the academic area of math. We got funding from the Gates Foundation to do paid focus groups so the app prototype could be really informed by caregivers themselves.
What did that app prototype end up looking like? What did the process look like?
There were a lot of rounds of revision between the developers and the caregiver focus groups. In the end it was exactly what all these parents said they wanted, which was really cool. The app prototype gives an easy way for parents to check in on their student's Math Corps progress. It also helps them with homework – there are short videos and lessons for parents to learn about the math their student is learning.
During the process, our opinions mattered so much, which was amazing. The app prototype really includes our ideas the way we wanted them to be presented. That really empowered our community and our parents, and they got paid in the process. Having someone on the app team in the focus groups was really helpful, so they could see the passion of the parents. It's the personal touch, and parents being there from the ground up, that makes them stakeholders.
What did you learn about involving caregivers in decision-making?
It was really important to connect with people when it was most convenient for them. For a lot of people that's nine o'clock at night. That's when you're home, you just now have time for yourself. The other thing was connecting with people the way they wanted to be connected with. Some didn't want to be recorded, so I talked to them separately. And others just wanted to talk to me at school. Everyone was paid, so that was helpful to really value their time.
Honestly, everyone wants to be heard and valued. Depending on who you're talking to, you might not believe you're being heard, or that your opinion is going to inform decisions. We had to really build that trust with caregivers so they knew we're really listening.
Where are you headed next?
I've been training for the past couple years in positive behavior interventions. I've continued to train and study, and next year I will be a behavior interventionist. I am studying a lot right now on just different ways to reach a kid and help them be their best and that that's different for every kid.
Interested in serving with AmeriCorps? Learn more about our programs or reach out to our recruitment team about which program might be a good fit for you.